Location: Launch from Coral Street Beach, paddle west, float around lookng for whales, then back to Coral St Beach.
Date: January 19, 2008
Type: WSK Trip
Stats: 10.2 miles, 4.9 hours paddling time
Click on the picture below to view an interactive track map. You can pan and zoom the interactive map to see details of different parts of the trip. It may take a few moments for the interactive map to load once you click below.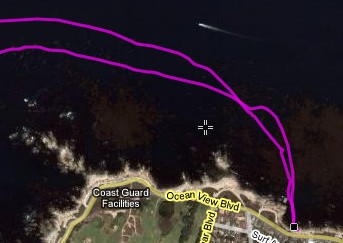 Interactive Google Map of the track log
---
Here are a few pictures I took during the paddle.